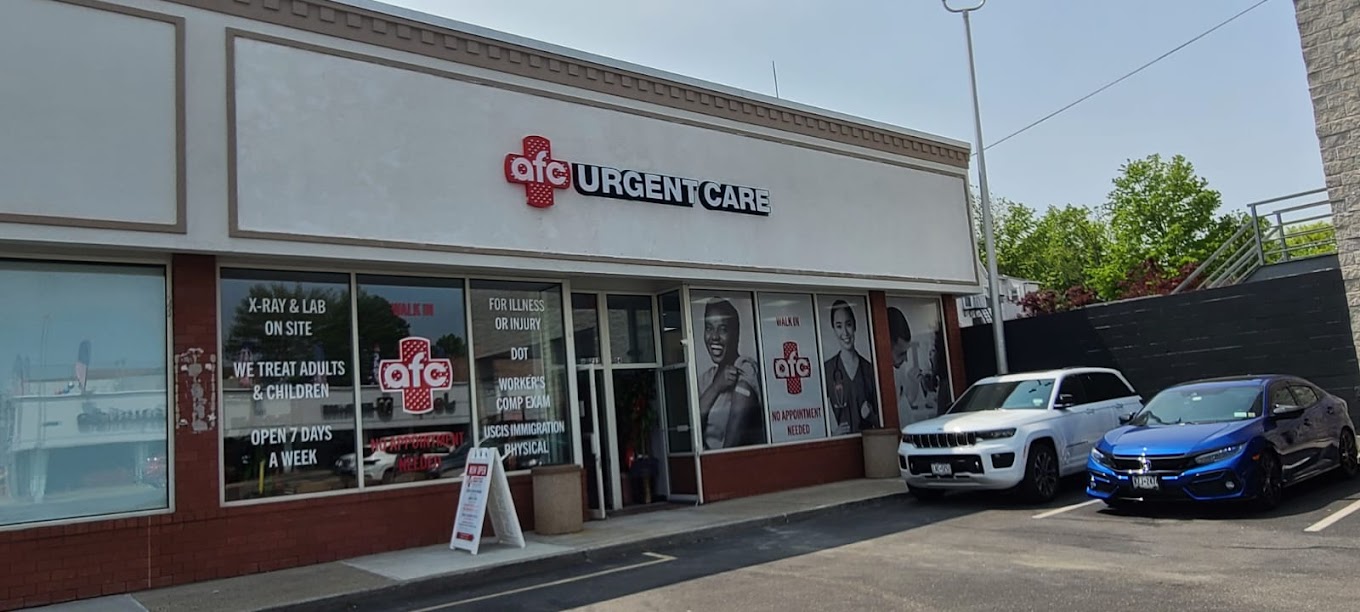 New American Family Care in Queens Will Provide Relief to Local ERs
QUEENS, N.Y. – (April 24, 2023) – A group of local medical doctors and family nurse practitioners are thrilled to announce the opening of a new American Family Care (AFC), the nation's leading provider of urgent care, accessible primary care, and occupational medicine, in Queens. AFC Bayside is located at 213-04 Northern Boulevard, next to CVS. Medical staff will start seeing patients on Monday, May 1.
"As healthcare professionals who've worked at local medical facilities for years, we know there is a critical need for increased access to healthcare in the area, especially for non-life-threatening injuries and illnesses," says Dr. Mark Estrellado, MD, independent co-owner and operator of AFC Bayside. "Our team looks forward to not only improving the quality of life for our patients, but we also want to alleviate overcrowding in nearby ERs by providing healthcare that does not require long waits and huge medical bills."
Dr. Estrellado teamed up with fellow healthcare providers Jasmin Dent-Frederick, FNP, and Shuang Weng, FNP, to open AFC Bayside. All three have urgent care and emergency room experience. The trio met each other while working in another urgent care setting. They all agreed opening a clinic like AFC will fill a huge void in the Bayside community.
"Bayside is a highly diverse area of Queens, there is a huge Asian population, and English is not the first language for many residents," explains Weng, who lives a few blocks from the new clinic. "Our team members speak Mandarin, Cantonese, Korean, and Spanish. Our environment is inviting to all. We want our patients to know they can easily communicate how they feel when they are sick and get the help they need quickly."
AFC Bayside features four exam rooms, a procedure room, an X-Ray room, and an OBGYN room. The clinic will offer STD, COVID-19, and flu testing. Plus, the providers can perform DOT and immigration physicals and occupational medicine, such as work-related injuries and illnesses and workers' compensation cases.
"The level of care we are bringing to the Bayside community is something we know our patients will value immediately," says Dent-Frederick. "Mark, Shuang, and I come from humble beginnings, so we all have firsthand experience of living with limited access to healthcare and the frustrations that follow. Our hope is that AFC Bayside might eliminate the unnecessary complications that often arise while trying to find affordable and accessible healthcare."
The new AFC clinic has extended hours from 8 a.m. to 8 p.m. and weekends from 8 a.m. to 5 p.m. No appointment is necessary.
To learn more about AFC Bayside, visit https://www.afcurgentcare.com/bayside/.
About American Family Care:
Founded by Dr. Bruce Irwin with a single location in 1982, American Family Care has pioneered the concept of convenient, patient-centric healthcare. Today, with more than 300 clinics and 1500 in-network providers caring for millions of patients a year, AFC is the nation's leading provider of urgent care, accessible primary care, and occupational medicine. Ranked by Inc. magazine as one of the fastest-growing companies in the United States, AFC's stated mission is to provide the best healthcare possible, in a kind and caring environment while respecting the rights of all patients, in an economical manner, at times and locations convenient to the patient. For more information, visit americanfamilycare.com.
For Immediate Release    
MEDIA CONTACTS:
Nancy Bostrom nbostrom@919marketing.com 919-459-8163
Sue Yannello syannello@919marketing.com 919-459-8162