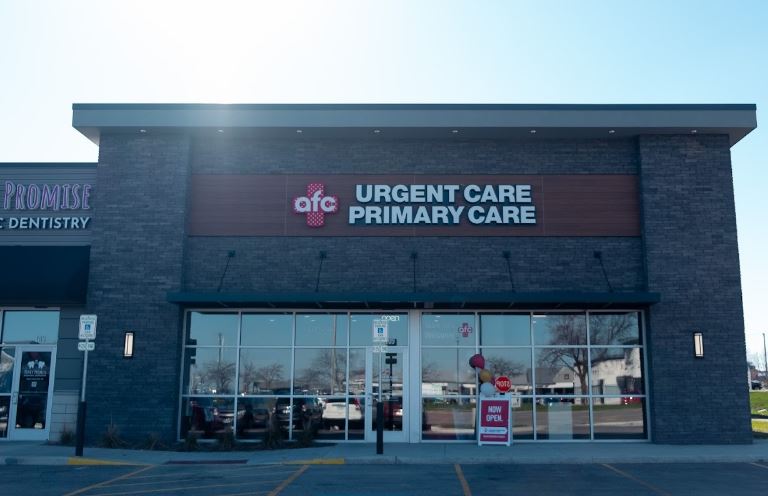 Nation's Largest Urgent Care Provider Celebrates Opening of Naperville Center
BIRMINGHAM, Ala. – (March 28, 2023) – American Family Care (AFC), the nation's leading provider of urgent care and accessible primary care, is opening a healthcare center in Naperville. The new state-of-the-art medical facility is located at 1355 East Ogden Avenue in Naperville, near the Amazon Fresh store. The AFC Naperville medical team will begin seeing patients Tuesday, March 28.
The new AFC healthcare facility will serve those who live in the highly populated Chicago suburbs. The AFC staff will provide comprehensive medical services from primary care to diagnosing illnesses like COVID-19, flu, or a cold, treating injuries such as a broken bone, and helping patients manage various health conditions ranging from arthritis to diabetes to high blood pressure.
"We're excited to expand west in the suburbs and reach more families and patients who live and work nearby," said Dr. Rama Wahood, AFC Naperville's Medical Director. "Our mission at AFC is to offer the best affordable health care to our community, including having extended hours and weekend options to meet the needs of our patients."
AFC clinics aim to save families time and money. Board-certified family medicine doctor Dr. Rama Wahood, M.D., leads the medical team. Dr. Wahood is a Chicagoland native, receiving her M.D. from the Chicago Medical School. She's also worked as a provider at AFC Willowbrook.
The medical staff at AFC provides services to relieve overcrowded local emergency departments by giving patients an alternative for non-life-threatening emergencies.
"There's no need for patients to sit hours in a waiting room at an ER to receive a diagnosis and an expensive medical bill when AFC offers an affordable, suitable option. My team and I are ready to serve our neighbors so they can avoid that inconvenience," said Dr. Wahood. "Now, they can receive treatment and be on their way home in as quick as an hour."
In addition to an extensive list of primary and urgent care services, AFC also offers vaccinations, on-site lab testing, x-rays, pre-employment physicals, drug screening, and treatment of work-related injuries.
About American Family Care:
Founded by Dr. Bruce Irwin with a single location in 1982, American Family Care has pioneered the concept of convenient, patient-centric healthcare. Today, with more than 300 clinics and 1500 in-network providers caring for millions of patients a year, AFC is the nation's leading provider of urgent care, accessible primary care, and occupational medicine. Ranked by Inc. magazine as one of the fastest-growing companies in the United States, AFC's stated mission is to provide the best healthcare possible, in a kind and caring environment while respecting the rights of all patients, in an economical manner, at times and locations convenient to the patient. For more information, visit americanfamilycare.com.
For Immediate Release    
MEDIA CONTACTS:
Nancy Bostrom nbostrom@919marketing.com 919-459-8163
Sue Yannello syannello@919marketing.com 919-459-8162