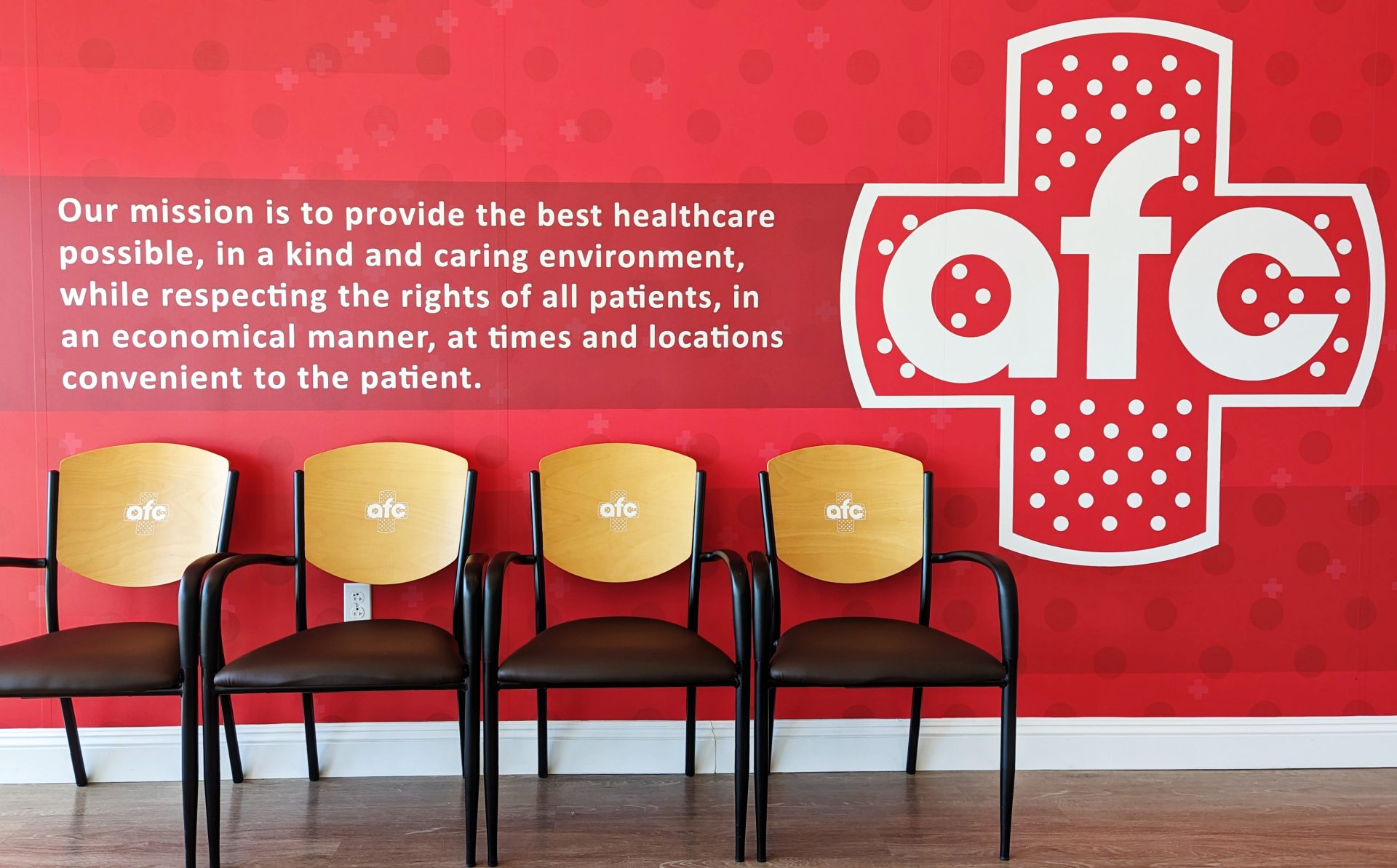 Healthcare Network Now Providing Care to Families Who Live and Work in Apex    
APEX, N.C. – (September 1, 2022) – Just in time for what could turn into a rough flu season, a new state-of-the-art healthcare facility is bringing flu vaccines to the people who live and work in Apex. American Family Care (AFC), the nation's largest provider of accessible primary care, urgent care, and occupational medicine, is now seeing patients seven days a week.    AFC Apex Lake Pine is located at 910 U.S. Highway 64 in the Harris Teeter shopping center.
"AFC Apex Lake Pine is staffed with skilled medical professionals who are deeply committed to providing medical care," explains Mustapha Chakour independent owner and operator of AFC Apex, as well as AFC Cary.   "Our medical team is keeping a close eye on the upcoming flu season and we are ready to   administer flu shots to our patients any day of the week."
After two slow years of the flu, health experts say it's coming back with a vengeance. Australia, which has its flu season between May and September, has already seen more flu cases than it did in 2019.  As recommended by officials with The Centers for Disease Control and Prevention (CDC), AFC Apex Lake Pine staff urges everyone get a flu shot by the end of October.
"Our staff will make it very easy for any member of the family to get a flu vaccine," says Chakour.   "We are open late so mom and dad can swing by after they stop at the grocery store or pick kids up at a soccer practice. We know families are busy, so we make it easy, you can access AFC Apex Lake Pine healthcare services without having to make an appointment."
AFC Apex Lake Pine Services:
On-Site Lab Testing – AFC's on-site laboratory provides a wide variety of lab work, including flu and COVID-19. Most results are available within minutes.
State-of-the-Art Diagnostics – Digital x-ray equipment allows AFC staff to take and read x-rays within minutes. Patients are provided with copies on a C.D. upon discharge.
Occupational Health Exams and Workers' Compensation Cases – These services include D.O.T. physicals, urine drug screens and breath alcohol tests.
Extended Hours – AFC Apex Lake Pine will be open seven days a week, from 8 a.m. to 8 p.m. Monday through Friday and 8 a.m. to 5 p.m. Saturday and Sunday.
Heading up AFC Apex Lake Pine is Medical Director Dr. Shahnaz Daud, M.D. She has more than 45 years of practice in family medicine and women's health.  She leads a very experienced medical staff including board certified Physician Assistant Jared Sherman.
"It is exciting to expand AFC's convenient and affordable healthcare services in the Triangle," says Dr. Daud. "There is no longer a need to wait hours to see a doctor in the emergency room for non-life-threatening conditions. In many cases, the AFC team can get patients in and out in 45 minutes or less."
AFC Apex Lake Pine is located at 910 U.S. Highway 64 Apex, NC 27523.  For more information or to schedule an appointment, visit https://www.afcurgentcare.com/apex-lake-pine/.
About American Family Care:
Founded by Dr. Bruce Irwin with a single location in 1982, American Family Care has pioneered the concept of convenient, patient-centric healthcare. Today, with more than 300 clinics and 1500 in-network providers caring for millions of patients a year, AFC is the nation's leading provider of urgent care, accessible primary care, and occupational medicine. Ranked by Inc. magazine as one of the fastest-growing companies in the United States, AFC's stated mission is to provide the best healthcare possible, in a kind and caring environment while respecting the rights of all patients, in an economical manner, at times and locations convenient to the patient. For more information, visit americanfamilycare.com.
For Immediate Release   
MEDIA CONTACTS:
Nancy Bostrom nbostrom@919marketing.com 919-459-8163
Sue Yannello syannello@919marketing.com 919-459-8162