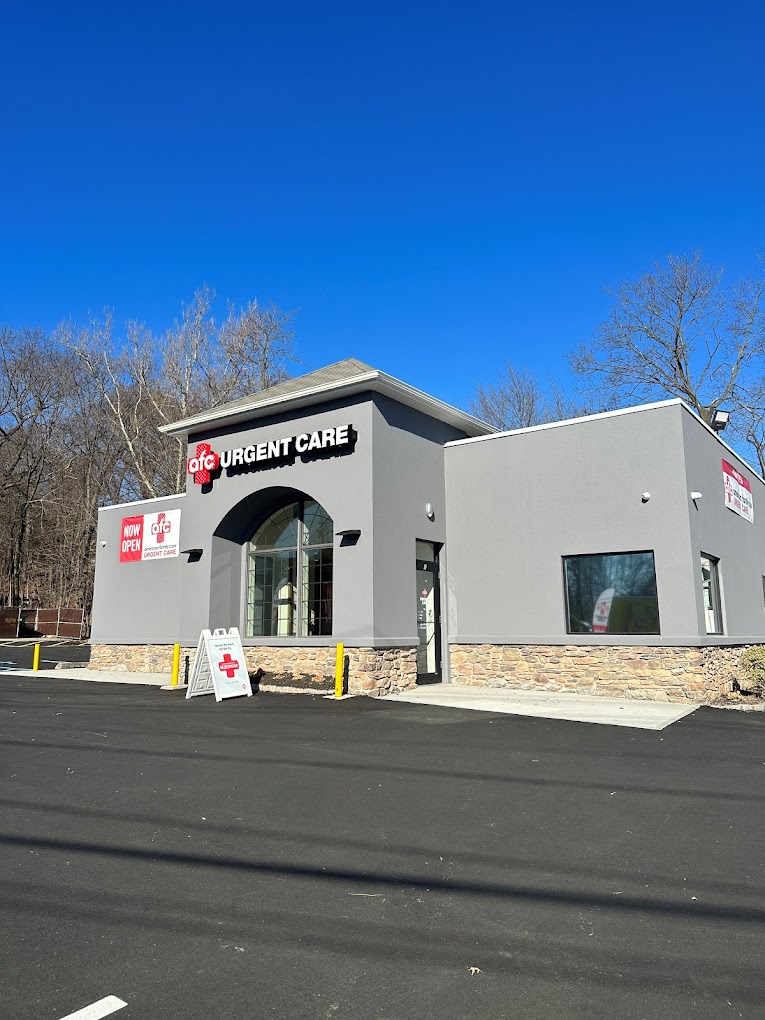 American Family Care Will Serve Patients Seven Days a Week
Haledon, NJ – (December 19, 2022) – American Family Care (AFC), the nation's leading provider of accessible primary care, urgent care, and occupational medicine, continues its massive expansion with the opening of its latest AFC urgent care center in Haledon — conveniently located to serve patients in Patterson, Wayne, as well as students attending William Patterson University.
AFC Haledon, a state-of-the-art healthcare facility, is located at 1 W. Haledon Avenue, at the former site of Big Jim's Pizza.
"It's amazing to see how we've turned a once popular restaurant into a medical center that is equipped with an x-ray room, lab testing center, trauma room, triage center, as well as multiple exam rooms," explains Jeff Perchuk, independent owner and operator of AFC Haledon who is no stranger to the medical industry.   "Our entire team is looking forward to providing quality healthcare to the community and give the people who live and work nearby such easy access to highly skilled medical providers every day of the week. "   Jeff has years of experience in pharmaceutical sales as well as a Master of Business Administration (MBA) from Ramapo College of New Jersey.
AFC Haledon will provide a comprehensive suite of medical services that will save families time and money, like COVID-19 PCR testing that provides results in just thirty minutes.  The new center is staffed with skilled medical professionals who are deeply committed to providing outstanding medical care.
AFC Haledon Services
Laboratory On Site – AFC's on-site laboratory provides a wide variety of lab work with results available within minutes, including flu, COVID-19, and STD testing.
State-of-the-Art Diagnostics– Digital x-ray equipment allows AFC staff to take and read x-rays within minutes.
Occupational Health Exams and Workers' Compensation Cases – These services include D.O.T. physicals, urine drug screens, and breath-alcohol tests.
Extended Hours:Open seven days a week, no appointment necessary.
Veteran board-certified emergency room physician Dr. James Hakim is AFC Haledon's Medical Director.   Dr. Hakim says the clinic will offer both in-office appointments and telemedicine/virtual visits and will fill a void in the healthcare options in the community.
"Urgent care is a convenient, economical alternative to visiting a hospital emergency room. Our staff at AFC can treat everything from cuts, bruises, and fractures to colds, Covid-19, and flu,"  Dr. Hakim explains. "We look forward to becoming an integral part of the community and keeping everyone healthy."
AFC Haledon opens to patients Tuesday, December 20th.  Medical services will be offered seven days a week — Monday thru Friday from 8 a.m. to 8 p.m. and Saturday and Sunday from 8 a.m. to 5 p.m.
For more information, visit  https://www.afcurgentcare.com/haledon/
About American Family Care:
Founded by Dr. Bruce Irwin with a single location in 1982, American Family Care has pioneered the concept of convenient, patient-centric healthcare. Today, with more than 300 clinics and 1500 in-network providers caring for millions of patients a year, AFC is the nation's leading provider of urgent care, accessible primary care, and occupational medicine. Ranked by Inc. magazine as one of the fastest-growing companies in the United States, AFC's stated mission is to provide the best healthcare possible, in a kind and caring environment while respecting the rights of all patients, in an economical manner, at times and locations convenient to the patient. For more information, visit AmericanFamilyCare.com.
FOR IMMEDIATE RELEASE  
Media Contact
Nancy Bostrom,  nbostrom@919marketing.com, 919.459.8163