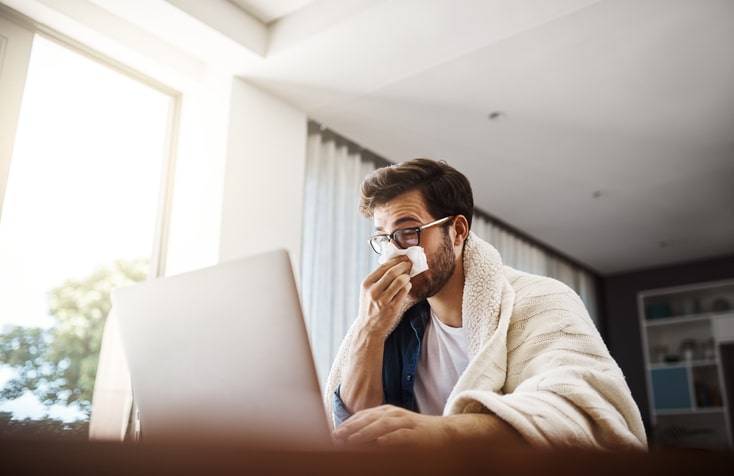 There has never been a more confusing time to cough or sneeze. The slightest sniffle or tickle in the throat immediately has people worrying that they may have contracted COVID-19.
However, there are so many other variables still in the mix; the yearly flu season, allergy season, and don't forget the common cold. It is obvious why figuring out what ails you has never been more challenging. 
Cold and Flu 
The common cold and the flu are both respiratory illnesses. However, they are caused by different types of viruses. They have similar symptoms, and it can be difficult to tell them apart on the surface by the symptoms. 
Flu symptoms come on rapidly while a cold develops slowly. Generally, the flu is more intense than the common cold in that colds don't usually result in serious health problems that can lead to hospitalization, including pneumonia and bacterial infections.
Special tests can help determine whether someone is suffering from the flu. There are flu vaccines available every year to help people protect themselves and the people around them from the flu. There is no treatment available for the common cold.
Here are some of the symptoms that differentiate the flu from the common cold. 
Flu Symptoms
High fever – (note: Not everyone with the flu will have a fever)

Cough

Sore throat

Stuffy nose

Headache and/or body aches

Fatigue

Nausea, vomiting, and/or diarrhea
Common Cold Symptoms
Sinus congestion

Stuffy nose

Post-nasal drip

Sore throat

Sneezing

Coughing

Moderate temperature (around 100 to 101 degrees Fahrenheit)
COVID-19 
COVID-19 is an infectious respiratory illness caused by the SARS-CoV-2 virus. People with COVID-19 have a wide range of symptoms, which can run from mild to severe. Symptoms may appear 2–14 days after exposure to the virus.
There are several types of tests to determine if someone has contracted COVID-19. Vaccines are also available now, which can lower the chance of contracting the virus and lessen the chance of spreading the pathogen to others.
Symptoms associated with COVID-19:
High fever

Cough (sometimes it can be identified as a deep, dry cough)

Shortness of breath or difficulty breathing

Fatigue

Headache and body aches

Loss of taste or smell

Sore throat

Congestion

Nausea, vomiting, and/or diarrhea
Seasonal Allergies
Usually triggered by airborne pollen, allergies can lead to seasonal allergic rhinitis, which affects the nose and sinuses, or seasonal allergic conjunctivitis, which affects the eyes.
Some of the symptoms of COVID-19 and seasonal allergies are similar, so it may be difficult to tell the difference between them. If someone has the same symptoms every fall and spring, it is likely allergy-related and not COVID-19. A visit an allergist can confirm if the problem is related to allergies. 
Symptoms of seasonal allergies:
Itchy, watery eyes 

Runny nose

Ears feeling plugged up

Tickle in back of throat

Sneezing
Whether it is a cold, flu, COVID-19, or a seasonal allergy, the medical team at American Family Care (AFC) can provide fast, reliable care for the whole family. Not only can AFC diagnose illness, like the flu or COVID-19 through testing, but we can also treat the symptoms. Our clinics also provide preventative vaccines for both COVID-19 and the flu.
We offer extended weekday and weekend hours. No appointment is necessary, and walk-ins are always welcome. 
Click here to find the nearest American Family Care.