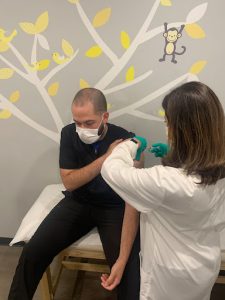 Flu season is approaching and many of us are wondering what to expect, since unfortunately,  COVID-19 is still present. The CDC and researchers are worried of a possible "twindemic". Both viruses have symptoms that often overlap and sometimes they can be hard to distinguish. In response to this, we have new updates to the flu vaccines to better prepare high risk individuals from getting the flu. AFC Urgent Care New Britain now offers the quadrivalent flu vaccine and is here to help vaccinate our community and provide updated information on COVID-19 and the flu season of 2021 so you can avoid the dreaded "twindemic". 
What are the new updates for the flu vaccine in 2021?
First, let's get an old myth out of the way.
Receiving a flu shot will not give you the flu.
The virus in your shot has been weakened to the point that it will not actually make you sick, but will encourage your body to start creating antibodies to fight a possible flu. That being said, let's talk about which one will be right for you.
There are many different types of flu vaccines, and the determining factors for which one you should get mostly come down to your age, and current state of health. Regardless, the flu shot is either going to be trivalent, meaning it protects against three strains of the virus, or quadrivalent, meaning it protects against four. AFC Urgent Care New Britain offers the quadrivalent flu vaccine. Ther CDC has issued updates to the vaccines to better combat possible strains in the
2021/2022 flu season
. 
It is important to remember that infants under 6 months should NOT receive a flu shot because their immune systems aren't strong enough to handle the vaccine. 
They are also at a high risk of flu complications if parents don't get their flu shots. Remember,  you can reduce the chances of your newborn getting the flu if you get the flu shot before the season begins. If you have any questions or concerns about which vaccine is best for you and your loved ones,
contact us
. We're here to help make it easy for you.
Who should get the flu vaccine this year?
The CDC suggests that everyone above the age of 6 months get vaccinated for the flu
, including pregnant women, the elderly and high risk individuals. But what about newborns? Newborns under the 6 month threshold don't have fully developed immune systems yet, so giving a flu vaccine to them would do more harm than good. However, a mother during pregnancy can receive a flu vaccine and pass on the immunity to their baby.
Fun fact:
When you get a flu shot during pregnancy, your baby will also develop antibodies that will protect it for the first 6-months of it's life!
It's important to remember that when you are pregnant, your immune system is not at its strongest, making it far more likely that you will get sick. When you get sick, you are not only dealing with the flu yourself, but you are also putting your pregnancy at greater risk.
Don't wait. Come get your flu shot today!
The CDC recommends that everyone get their flu shots in September, or October before the start of the flu season. AFC Urgent Care New Britain is aware of the possible twindemic and offers the quadrivalent vaccine 7 days a week with no appointment necessary. 
You can come to any of our AFC walk-in clinics, at any time. We are located at 135 East Main Street, New Britain CT 06051. We accept most
insurances
and we also offer COVID-19 testing 7 days a week with results on the same day with our
RAPID COVID-19 testing service.