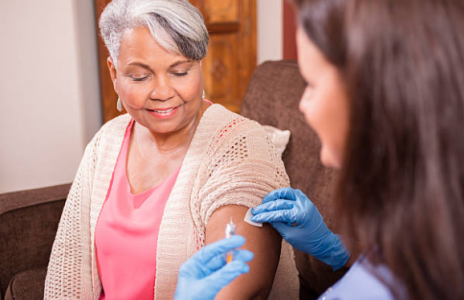 The flu is one nasty plague that can easily infect anyone at anytime. It often becomes a snowball effect that can spread like wildfire if you're not flu protected. Every year we lose lives to the flu that could have easily been prevented with a flu shot.
AFC Urgent Care Torrington knows the importance of the flu shot and how it can save lives. A flu vaccine will always be the best safeguard for protecting those with higher risks of flu complications. Those at higher risk include the elderly, pregnant women, babies under the age of 6 months and those who are immuno-compromised*. That is why we recommend protecting seniors from the flu in 2020 by getting a flu shot.
Our motto is "Flu immunity in the community"
What you should know about the flu shot this year
Not much had changed about the vaccine you had been getting for ages until the flu begin to morph into different strains, requiring different vaccines. AFC Torrington has got you covered on important flu information that can assure you that you will be flu protected with a flu vaccine at our walk in urgent care center.
In January 2019, the U.S. Food and Drug Administration (FDA) approved a change in dose volume for Fluzone Quadrivalent. Children in the age group of 6 months to 35 months will now be able to receive either 0.25 milliliters or 0.5 milliliters per dose.

Flu vaccines have been updated to better match currently circulating viruses. The B/Victoria component was changed and the influenza A(H3N2) component was updated.

All LAIV vaccines will be quadrivalent, designed to protect against four different flu viruses: two influenza A viruses and two influenza B viruses. Most regular-dose egg-based flu shots will be quadrivalent.

For the 2018-2019 season, the nasal spray flu vaccine — or live attenuated influenza vaccine or LAIV, often a go-to option for young children who hate shots — starting at 2 years of age, is recommended and available on a limited basis. Call us for eligibility and supply

Cell-grown flu vaccine will be quadrivalent. For this flu vaccine, the virus A(H3N2) and both influenza B reference viruses will be cell-derived, and the influenza A(H1N1) will be egg-derived.

The age recommendation for Fluarix Equivalent, which uses mammalian culture rather than chicken embryos, was changed from 3 years old and older to 6 months and older.

The age recommendation for Afluria Quadrivalent, an inactivated influenza vaccine, was changed from 18 years and older to 5 years and older.
I'm healthy, why do I need a flu shot?
The answer is because the flu virus is SO contagious and potentially very dangerous for you as well as those you may come in contact with. We're deep into the flu season and there have already been 23reported deaths from the flu in Connecticut. Most of these cases have been adults over the age of 65.
According to the CDC adults over the age of 65 have the most reported flu-related cases and hospitalizations during flu season. This is because their immune systems are weaker than a young healthy adults.
Young healthy adults are usually able to recover from the flu, but they can spread the infection to seniors and other higher-risk people in the community. *
So the next time you say "I'm healthy" or "I don't need a flu shot", think again. It's not just about you anymore. It's about saving others in the community that are more susceptible to the flu.
Get your flu shot, especially if you work or live near adults 65 and older. You could be not only preventing the flu for yourself but you may be saving the life of a senior as well. Please contribute to the community by getting your flu vaccination.
AFC Urgent Care Torrington is your number one local provider that can help you and your family stay healthy from the flu. It only takes minutes to administer a flu shot. We can get you in and out in no time! We are here for you 7 days a week, 8am-8pm Monday-Friday and also 8am-5pm on the weekends. Located at 1171 East Main street across from Webster Bank. You can always contact us for more information on the flu at (860) 264-4176.