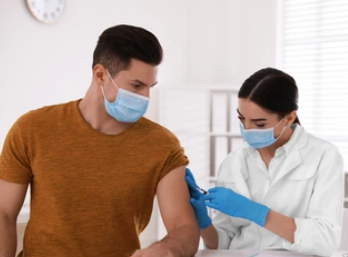 "Do I have to get a flu shot and COVID-19 vaccinated?". Yes, because both viruses can knock you off your feet, and It has been proven that you can contract both at the same time.
As we're approaching the 2021/2022 flu season, some of you may be eligible for your COVID-19 booster shot.. Others may be getting their COVID-19 vaccine for the first time. The good news is that the CDC states that it's okay to get both at the same time.
Lucky for you, AFC Urgent Care Malden now offers the highly effective quadrivalent flu shot as well as the Johnson and Johnson COVID-19 vaccine. Here's what you should know so you can avoid the dreaded "twindemic" this season.
Two new vaccines licensed for use during the 2021-2022 flu season. To better prepare the elderly there is now a quadrivalent high-dose vaccine that replaces the former trivalent dose. The second one is a quadrivalent adjuvanted vaccine for seniors that has an additional influenza B component.  
I heard that you can get the flu from getting vaccinated.  True? 
Myth buster!: You can not contract the flu from a flu shot. Flu vaccines given with a needle (i.e., flu shots) are made with either inactivated (killed) viruses, or with only a single protein from the flu virus. The nasal spray vaccine contains live viruses that are attenuated (weakened) so that they will not cause illness The vaccine will, however, encourage your body to begin to create antibodies to fight a possible influenza bug. 
Fun Flu Fact! Another great side effect of getting the flu shot is that it not only protects you against the flu, but effectively boosts your immune system. By getting the vaccine you are decreasing your chance of getting sick in any form this season.
Can a flu shot protect me against COVID-19?
No. You may have seen this question circulating across the internet, but to be clear, a flu shot will not protect you from COVID-19. Getting vaccinated for the flu means you're protected against this year's flu strains. 2 separate viruses. 
This is why you need both a flu shot for the flu season and to be vaccinated for COVID-19 to protect against that as well. If you haven't gotten vaccinated for COVID-19 yet, the CDC states that you can get both at the same time.
AFC Urgent Care in Malden makes it easy by  offering the single dose Johnson and Johnson COVID-19 vaccine as well as the quadrivalent flu vaccine.
What happens If I catch COVID-19 and the Flu?
Research has shown in the past 18 months that it is possible to get more than one respiratory infection while having COVID-19. We hope that it doesn't come to this and that is why we highly suggest you get vaccinated for the flu. This way, we can at least rule out the flu when trying to diagnose COVID-19. If you get both it will be hard to diagnose and treat.
If you need help with distinguishing between the two, our walk-in urgent care center can also help test you for COVID-19 as well as for flu at our center. We offer both standard PCR tests and RAPID COVID-19 tests for people in Malden MA.
Don't wait. Get the single dose Johnson and Johnson COVID-19 vaccine and flu vaccine today!
AFC Urgent Care Malden cannot stress it enough: All eligible should get vaccinated for both the flu and COVID-19. You can walk in for a flu shot or any of our urgent care services with no appointment needed at 219 Centre Street, Malden, MA.
Learn more about our Johnson and Johnson COVID-19 vaccine and what to expect here. 
Our staff is fully equipped with PPE gear and we make sure our facility is clean and sanitized for you. AFC in Malden also offers COVID-19 testing 7 days a week with results on the same day with our Rapid COVID-19 testing services.