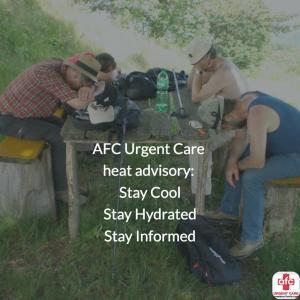 It's not your imagination. We're in the midst of a HOT summer. Heat related illnesses like dehydration, heat exhaustion or heat stroke should not be taken lightly, and affect many. Most vulnerable are babies, the elderly,the sick and the immobile, and of course those without air conditioning.
What are the differences between heat exhaustion and heat stroke?
The distinctions can be the difference between life and death.
Heat exhaustion is a result of being exposed to high temperatures and not being properly hydrated. Symptoms can include:
Confusion
Dehydration
Fatigue
Nausea
Muscle aches
Sweating
Rapid heartbeat
Taking a cool bath, moving to an air conditioned area and drinking hydrating fluids can often relieve heat exhaustion.
Without proper attention, heat exhaustion can lead to heat stroke. Signs of heat stroke include:
Altered mental state or confusion
High temperature of over 103 degrees
Nausea and/or vomiting
Warm, DRY  skin
Rapid breathing
Throbbing headache
Fainting
Racing heartbeat/rapid pulse
Heat stroke is a medical emergency. It can kill or cause brain and organ damage. Call 911 immediately if you suspect someone has heat stroke or go to the nearest emergency room.
If, on the other hand you believe you are experiencing dehydration or heat exhaustion, we are happy to treat that here at AFC Urgent Care West Hartford with no appointment necessary.
We are open 7 days a week. 1030 Boulevard, West Hartford, CT. or visit our sister urgent care centers: 135 East Main Street, New Britain or in Vernon at 179 Talcottville Road, Vernon, CT