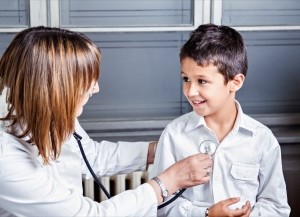 The team at AFC Urgent Care Baytown cannot believe that we are already back on the topic of school. Where in the world did summer go? It's time to make sure all "I's" are dotted and "T's" are crossed when it comes to getting ready for school. One important step? Taking your kids to get a physical exam.
A Yearly Physical Exam Is Important
The few days leading up to the start of school are the perfect time for your child to come in for a yearly physical exam. Why? Because not only is the information obtained from a physical exam important for you to know in terms of your child's health, if he or she is participating in a sport, your child will need one anyway before he or she hits the field. So, why not go ahead and check an item off your list before the crazy schedule of school and sports begins?
An annual physical exam can help ensure your child is hitting the important milestones as he or she grows. This regular checkup also allows a physician to make certain there are no problems emerging in your child's health. Your child's height, weight, hearing and vision will all be checked during the physical exam. Depending on the vaccination schedule and school requirements, your child may also need to receive a vaccination or two to ensure he or she stays on track and is protected from certain illnesses.
Plus, seeing a physician at least once a year can help your child become familiar with the physical examination and, as he or she ages, feel more comfortable asking questions of the doctor. This is important especially when your child turns into a young adult and is in charge of his or her own health care.
If your child is participating in fall sports, has he or she had a sports physical? Visit AFC Urgent Care Baytown today to receive that physical from one of our friendly and board-certified providers.